Preview
Horror title 'Five Nights at Freddy's' opened big at the box office.
It has seen a second-weekend slump but is still making money.
There is already talk of a sequel.
Clearly video game adaptations are the new big thing. After decades in the critical and box office wilderness, the genre has become successful in the last couple of years, and 2023 is looking like a banner year, what with 'The Super Mario Bros.' and now 'Five Nights at Freddy's'.
The horror movie, adapted from the popular point-and-click game series launched back in 2014 by creator Scott Hawthorn, has been taking in stacks of money at the domestic and international box office.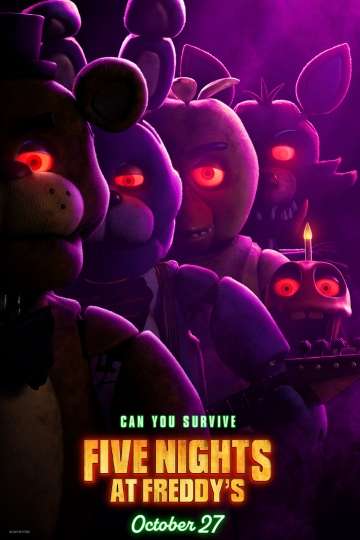 What's the story of 'Five Nights at Freddy's'?
In case you didn't see the movie (and given that it was released simultaneously in theaters and on streaming service Peacock, lots of people did), 'Freddy's' follows Mike (Josh Hutcherson), a troubled young man caring for his 10-year-old sister Abby (Piper Rubio), and haunted by the unsolved disappearance of his younger brother more than a decade before.
Recently fired and desperate for work so that he can keep custody of Abby, Mike agrees to take a position as a night security guard at an abandoned theme restaurant: Freddy Fazbear's Pizzeria.
But Mike soon discovers that nothing at Freddy's is what it seems. With the aid of Vanessa Shelly, a local police officer (Elizabeth Lail), Mike's nights at Freddy's will lead him into unexplainable encounters with the supernatural and drag him into the black heart of an unspeakable nightmare.
Related Article: Movie Review: 'Five Nights at Freddy's'
'Five Nights at Freddy's': What happened with its opening weekend?
The first weekend launch for 'Freddy's –– even given the release on Peacock –– proved to be a huge one, driven by the games' fanbase and word of mouth despite middling reviews.
It opened to $80 million, far outstripping predictions and making it successful thanks to its typically thrifty Blumhouse budget of $20 million.
The title is now the highest-grossing horror movie of the year, ahead of the likes of 'M3GAN' and 'The Nun II'. Globally, it has now passed $217 million.
Jason Blum, boss of Blumhouse, thanked fans via social media for the turnout:
How did 'Five Nights at Freddy's' fare in its second weekend?
'Freddy's' took something of a tumble in its second weekend, dropping 76% to $19.4 million, but that isn't stopping its momentum. It's the second-highest grossing video game adaptation this year, though has quite a way to go to beat 'Mario', which passed the billion dollar mark (both titles were released by Universal, so we're sure the studio is happy either way).
So why the drop?
Here's what Franchise Entertainment Research boss David A. Gross told Variety of the second weekend figure:
"'Five Nights at Freddy's' is crashing in its second weekend of simultaneous streaming. The two viewing options compete with each other. An exclusive theatrical run generates the greatest total box office and then elevates the film and builds anticipation of the streaming premiere that follows it."
That said, it was helped by weak competition this past weekend, with two indie releases failing to make the top five.
And it took home another accolade, becoming the first horror movie to repeat at the top of the box office after a Halloween release since 1991's 'The People Under the Stairs'.
It won't surprise anyone to learn that the success means sequels are very likely. Nothing is official yet, but 'Freddy's' co-writer/director Emma Tammi said this to Variety before the movie opened:
"We're definitely excited to keep making more movies in this world, should we be lucky enough to do that."
Other Movies Similar to 'Five Nights at Freddy's':
#Nights #Freddys #Box #Office #Hit