GAZA:

Israel on Monday pounded Gaza with "significant" strikes as IDF soldiers battled Hamas forces in the besieged territory, ignoring ceasefire calls by UN aid agencies who condemned surging civilian deaths in the month-long conflict.
The health ministry in Gaza says more than 9,770 people, many of them women and children, have been killed in Israeli strikes and the intensifying ground campaign since the war began.
Israeli troops and Hamas fighters engaged in house-to-house combat in densely populated Gaza, where the war has sent 1.5 million people fleeing to other parts of the territory in a desperate search for cover.
Israeli tanks and soldiers stationed at a location in the northern Gaza Strip. PHOTO: AFP
"We will take the fight to Hamas wherever they are, underground, above ground", Israeli army spokesman Jonathan Conricus said at a briefing Monday, repeating calls for civilians to leave the urban war zone in the north of the Gaza Strip.
"We will be able to dismantle Hamas, stronghold after stronghold, battalion after battalion, until we achieve the ultimate goal, which is to rid the Gaza Strip — the entire Gaza Strip — of Hamas."
Conricus again accused Hamas of building tunnels underneath hospitals, schools and places of worship in Gaza to hide fighters, plan attacks and store ammunition — a charge the resistance group has repeatedly denied.
"This strike is like an earthquake," Gaza City resident Alaa Abu Hasera said, in a devastated area where entire blocks were reduced to rubble.
Israel launched a massive bombing campaign after the Palestinian fighters staged the worst attack in the country's history.
Israel has resisted calls for a halt in the fighting, with US Secretary of State Antony Blinken touring the region calling for "pauses" while rejecting Arab countries' demands for a ceasefire.
Israeli troops now encircle Gaza City, effectively splitting the territory in two, with "significant" strikes carried out, army spokesman Daniel Hagari said late Sunday.
Shortly before the strikes, internet and telephone lines were cut, Hagari said, adding that the strikes would continue in the days to come.
Israel has distributed leaflets and sent text messages ordering Palestinian civilians in northern Gaza to head south, but a US official said Saturday at least 350,000 civilians remain in the worst-hit areas.
On Sunday, the health ministry said 45 people were killed in Israeli strikes on a refugee camp in central Gaza, leaving people searching through the rubble.
"Are there any survivors?" shouted Said al-Najma, as he tried to shift the blocks of concrete strewn across the road in the camp.
"They brought down an entire street on the heads of women and children without any notice," he said.
Deepening the desperation in the crowded territory, the sole border crossing into Egypt was closed Sunday for a second day in a row, with Hamas suspending the evacuation of foreign passport holders after Israel refused to allow some injured Palestinians to be evacuated.
The UN Office for the Coordination of Humanitarian Affairs (OCHA) confirmed the closure, saying more than 1,100 people had been allowed out in the two days previous.
Since Israel sent ground forces into the north of Gaza late last month, "over 2,500 terror targets have been struck" by "ground, air and naval forces", the army said Sunday.
As international concern grows at mounting casualties, the heads of all major United Nations agencies issued a joint statement expressing outrage at the civilian death toll in Gaza and calling for an "immediate humanitarian ceasefire".
"For almost a month, the world has been watching the unfolding situation in Israel and the Occupied Palestinian Territory in shock and horror at the spiralling numbers of lives lost and torn apart," the UN chiefs said, including the heads of UNICEF, the World Food Programme and the World Health Organization.
"We need an immediate humanitarian ceasefire. It's been 30 days. Enough is enough. This must stop now."
The statement came as Blinken pressed a whirlwind Middle East tour focused on aid for the Palestinians, backing "humanitarian pauses" in the fighting — in a trip that has taken him to Israel and the occupied West Bank, as well as to Jordan, Iraq and Cyprus.
Blinken on Sunday went to the West Bank, where Palestinian president Mahmud Abbas denounced "the genocide and destruction suffered by our Palestinian people in Gaza at the hands of Israel's war machine," the official Palestinian news agency Wafa said.
On Monday, Blinken holds tough talks in Turkey in a bid to soothe the anger of one of Washington's most strategic but difficult allies about the bloodshed in Gaza.
U.S. Secretary of State Antony Blinken was only welcomed by a deputy governor upon his arrival in Ankara.

There was no high-level official present at the welcome. pic.twitter.com/lIValqQJp9

— Clash Report (@clashreport) November 6, 2023
NATO member Turkey, which is allied to the Palestinians but also has ties with Israel, has said it is recalling its ambassador to Israel and breaking off contacts with Prime Minister Benjamin Netanyahu.
Netanyahu has remained firm on his position, vowing that "there won't be a ceasefire until the hostages are returned".
"Let them remove this from their lexicon. We are saying this to our enemies and to our friends," the right-wing premier said after meeting troops.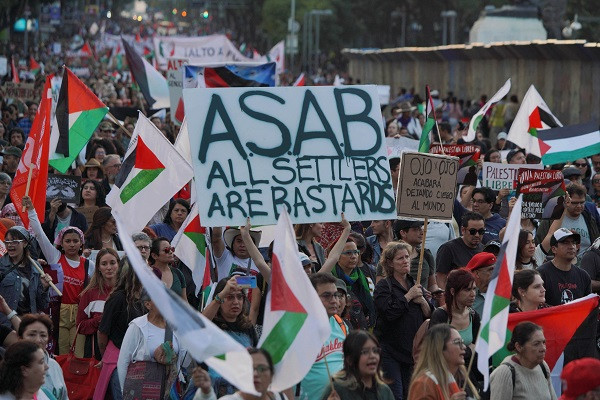 People march in support of Palestinians in Gaza, calling for a ceasefire and that Mexico cut ties with Israel, in Mexico City, Mexico. PHOTO: Reuters
"We will simply continue until we win. We have no alternative."
The war has exacerbated tensions in the West Bank, where more than 150 Palestinians have been killed in clashes with Israeli forces and settlers since the start of the war, according to the Palestinian health ministry.
In the north of Israel, the army and Lebanon's Hezbollah movement traded fire across the border, with each claiming to have hit the other's positions along the frontier.
Hezbollah chief Hassan Nasrallah has said Israel's war with Hamas could draw in other regional forces, but Conricus said Israel's position was "very defensive" and soldiers have "only been responding to attacks from Hezbollah".

#Israel #intensifies #brutal #Gaza #strikes #ceasefire #calls