JERUSALEM/GAZA:

Israel said on Tuesday its forces were operating deep in Gaza City in their battle to wipe out Hamas in the Palestinian enclave, and that the Palestinian group's leader was trapped inside a bunker.
Gaza residents said earlier that Israeli tanks were positioned on the outskirts of Gaza City, Hamas' stronghold in the north of the territory and home to about a third of its 2.3 million people before the hostilities.
Israel previously said it had surrounded Gaza City and would soon attack it to annihilate Hamas fighters who assaulted Israeli towns across the border one month ago.
Defence Minister Yoav Gallant said Israeli soldiers were operating in the heart of Gaza City. Hamas' most senior leader in Gaza, Yahya Sinwar, was isolated in his bunker, Gallant said in a televised news conference.
"IDF (Israeli military) forces…came from the north and the south. They stormed it in full coordination between land, air and sea forces," Gallant said.
"They are manoeuvring on foot, armoured vehicles and tanks, along with military engineers from all directions and they have one target – Hamas terrorists in Gaza, their infrastructure, their commanders, bunkers, communications rooms. They are tightening the noose around Gaza City."
He said that below the city there were kilometres (miles) of tunnels that ran under schools and hospitals and that housed weapons depots, communication rooms and hideouts for fighters.
Read also: UN leaders say Gaza war must 'stop now' as reported death toll tops 10,000
"Gaza City is encircled, we are operating inside it," Israeli Prime Minister Benjamin Netanyahu said in a televised statement. "We are increasing pressure on Hamas every hour, every day. So far, we have killed thousands of terrorists, above ground and below ground."
The Israeli military said Hamas fighters fired anti-tank missiles at Israeli forces from nearby hospitals and that soldiers found weapons hidden in a school in northern Gaza.
The military wing of Hamas, which has ruled the small, densely populated enclave for 16 years, said its fighters were inflicting heavy losses and damage on advancing Israeli forces. It had no immediate comment on the possible fate of Sinwar.
It was not possible to verify the battlefield claims of either side.
The war – the bloodiest episode in the generations-old Israeli-Palestinian conflict – broke out on Oct. 7 when Hamas fighters burst across the fence enclosing Gaza and killed 1,400 Israelis, mostly civilians, and abducted more than 200, according to Israeli tallies.
Since then, Israel has bombarded the coastal territory relentlessly, killing more than 10,000 people, around 40 percent of them children, according to counts by health officials there.
Month of carnage
A Palestinian firefighter at the site of Israeli strikes on a residential building in Khan Younis in the southern Gaza Strip, November 7, 2023. PHOTO: REUTERS
"It has been one full month of carnage, of incessant suffering, bloodshed, destruction, outrage and despair," UN Human Rights Commissioner Volcker Turk said in a statement at the start of a trip to the region.
Israel, which is trying to clear out Gaza City, gave residents a window from 10 a.m. to 2 p.m. to leave for the southern part of the 45-km (28-mile) long Gaza Strip.
Residents say Israeli tanks have been moving mostly at night with Israeli forces largely relying on air and artillery strikes to clear a path for their ground advance.
Gaza's interior ministry says 900,000 Palestinians are still sheltering in northern Gaza including Gaza City.
"The most dangerous trip in my life. We saw the tanks from point blank (range). We saw decomposed body parts. We saw death," resident Adam Fayez Zeyara posted with a selfie of himself on the road out of Gaza City.
Read: 'An hour here, an hour there,' Israel says open to Gaza fighting pauses for aid, hostages
Gallant repeated the calls for civilians to move south for their own safety. He also said that after the war was finished, neither Israel nor Hamas would rule Gaza.
While Israel's military operation is focused on the northern half of Gaza, the south has also come under attack. Palestinian health officials said at least 23 people were killed in two separate Israeli air strikes early on Tuesday in the southern Gaza cities of Khan Younis and Rafah.
"We are civilians," said Ahmed Ayesh, who was rescued from the rubble of a house in Khan Younis where health officials said 11 people had been killed. "This is the bravery of the so-called Israel – they show their might and power against civilians, babies inside, kids inside, and elderly."
As he spoke, rescuers at the house used their hands to try to free a girl buried up to her waist in debris.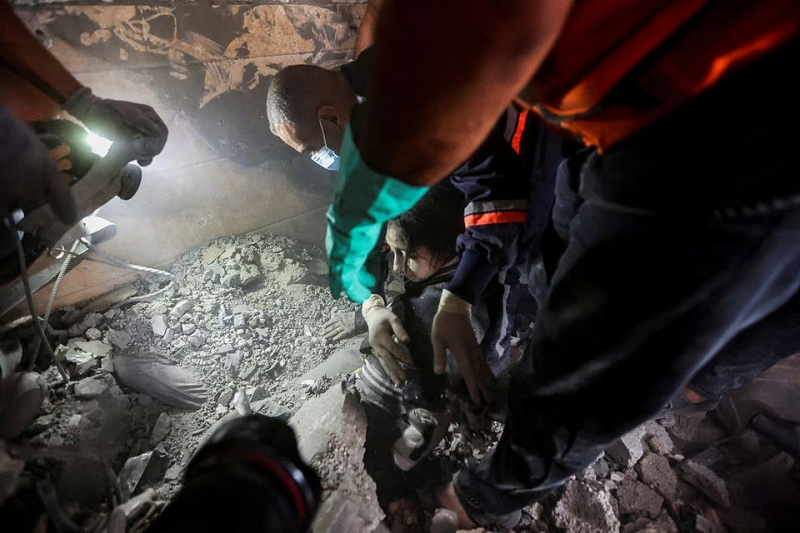 Emergency personnel work to rescue a Palestinian girl at the site of Israeli strikes on a residential building in Khan Younis in the southern Gaza Strip, November 7, 2023. PHOTO: REUTERS
Israel seeks 'indefinite period' of control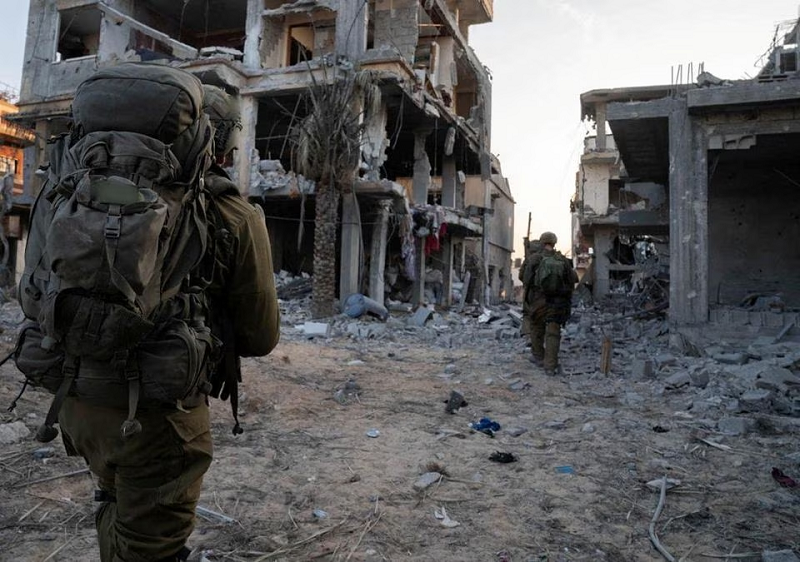 Israeli soldiers take part in ground operations at a location given as Gaza in this handout photo released November 7, 2023. PHOTO: REUTERS
Both Israel and Hamas have rebuffed calls for a halt in fighting. Israel says hostages should be freed first. Hamas says it will not free them or stop fighting while Gaza is under attack. Washington has backed Israel's position that a ceasefire would help Hamas militarily.
Israel has so far been vague about its long-term plans for Gaza, should it succeed in its operation to vanquish Hamas. In some of the first direct comments on the subject, Prime Minister Benjamin Netanyahu said Israel would seek to have security responsibility for Gaza "for an indefinite period".
"We've seen what happens when we don't have that security responsibility," he told US television's ABC News.
Israel pulled its troops and settlers from the Gaza Strip in 2005, and two years later, Hamas took power there, driving out the Palestinian Authority which exercises limited self-rule in a separate, Israeli-occupied territory, the West Bank.
Also read: US irrationality
US Secretary of State Antony Blinken has been having conversations with leaders in the region about what governance of Gaza could look like after the war, Kirby told CNN. "Whatever it is, it can't be what it was on Oct. 6. It can't be Hamas."
Simcha Rothman, a lawmaker in Netanyahu's religious-nationalist coalition, said in a social media post: "Our forces must not shed blood to give the Gaza Strip to the Palestinian Authority wrapped in a bow… Only full Israeli control and a complete demilitarisation of the strip will restore security."
But White House spokesman John Kirby said US President Joe Biden opposed Israeli reoccupation: "It's not good for Israel, it's not good for the Israeli people," Kirby told CNN.
Secretary of State Antony Blinken had spoken with leaders in the region about what governance of Gaza could look like after the war, Kirby said: "Whatever it is, it can't be what it was on Oct. 6. It can't be Hamas."
Diplomatic discussions about how Gaza could be ruled after the war have considered the deployment of a multinational force, an interim Palestinian-led administration excluding Hamas, a stopgap security and governance role for neighbouring Arab states, and temporary UN supervision of the enclave, according to a source familiar with the matter.

#Israel #troops #push #heart #Gaza #City