Depending on your age, the news that classic TV detective dramedy 'Moonlighting' is finally headed to streaming will either elicit a response of, "yay!" or "What-lighting?"
Yet given the show's stars –– Bruce Willis in his TV breakout, pre-movie stardom era and Cybill Shepherd –– you've probably at least heard of it in passing even if you didn't grow up in the 1980s and obsessively watched it (or dressed as one of the characters in school).
Thanks in part to the efforts of original creator Glenn Gordon Caron, all five seasons of the show will be available to watch on Hulu from October 10th, the first time the series has been available on streaming (at least, legally).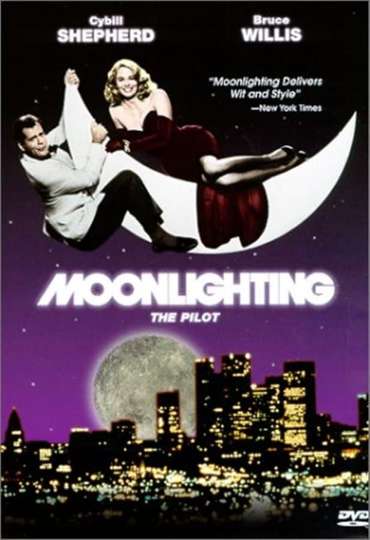 Maddie Hayes wakes up to find her staff have quit and all her money has been stolen. One of her few remaining assets is a loss-making investigation agency run by… Read the Plot
What's the story of 'Moonlighting'?
Shepherd plays Maddie Hayes, a former model who loses most of her financial assets due to her accountant's embezzlement but unexpectedly finds that she owns a detective agency.
She teams up with cocky, chauvinistic investigator David Addison (Willis) to run the agency and becomes embroiled in various unusual cases, with the show blending drama, comedy and romance, often breaking the fourth wall and incorporating flights of fantasy.
'Moonlighting' was a massive ratings success for a big part of its five-year run on ABC. It was a success immediately when it debuted in midseason spring 1985, and then entered Nielsen's top 10 during its first full season.
It stayed in the top 20 through season four but faded fast during its fifth season after ABC moved the show opposite CBS' 'Murder, She Wrote' (never underestimate the power of Angela Lansbury solving crime!)
And it wasn't just the ratings competition that sank things –– Shepherd and Willis' on-screen chemistry masked a well-documented curdling on-set, their clashes overshadowing the series' success.
It wasn't helped by the fact that Willis, who won an Emmy for the show during its run, was itching to become a big movie star, and with 'Die Hard' released shortly before the final season, he was essentially one bare foot (watch out for glass) out the door towards the end.
And Caron was pushing to spend more time and money on the show, arguing that it deserved the effort to make it look as good as possible.
Though he was proved right by the era of HBO and other shows that would follow, the budget and time overages began to creep into the series' schedule.
Related Article: 10 Best Bruce Willis Performances
Return or reboot?
The series has long been one that fans have wanted to see hit streaming, and Caron dropped hints that he had something in the works a year ago, when he dropped word on social media that he and Disney had come up with a plan.
Speculation mounted that it meant the show would finally arrive on streaming, or that –– horror of horrors –– they might be planning a reboot. But he cleared things up with this tweet:
And now we have the fruits of that work, including all the music you remember in place. So, if you've never seen the show, or need a nostalgia hit, you'll be able to head back to the offices of the Blue Moon detective agency on October 10th.
Movies Starring Bruce Willis or Cybill Shepherd:
#Moonlighting #Heading #Hulu #Moviefone