In theaters now, 'Strays' represents an attempt to bring the sort of bawdy comedy found in the likes of 'The Hangover' to an animal quest film more along the lines of family classics such as 'The Incredible Journey' and 'Homeward Bound'. The result is hit-and-miss, but when it works, it's bark-out-loud funny.
Comedy/producing titans Phil Lord and Chris Miller (who are behind the likes of Apple TV+ series 'The Afterparty' and 'Spider-Man: Across the Spider-Verse' already this year) brought outrageous violence and dark comedy to screens with February's 'Cocaine Bear'. 'Strays' definitely veers more towards lighthearted, raunchy comedy, but bears their winning touch.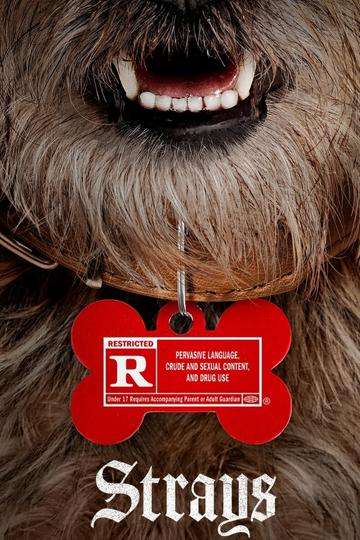 "Go fetch yourself."
1 hr 33 min
Aug 18th, 2023
Showtimes & Tickets
When Reggie is abandoned on the mean city streets by his lowlife owner, Doug, Reggie is certain that his beloved owner would never leave him on purpose. But once… Read the Plot
What's the story of 'Strays'?
When Reggie (Will Ferrell), a naïve, relentlessly optimistic Border Terrier, is abandoned on the mean city streets by his lowlife owner, Doug (Will Forte), Reggie is certain that his beloved owner would never leave him on purpose.
But once Reggie falls in with a fast-talking, foul-mouthed Boston Terrier named Bug (Jamie Foxx), a stray who loves his freedom and believes that owners are for suckers, Reggie finally realizes he was in a toxic relationship and begins to see Doug for the heartless sleazeball that he is.
Determined to seek revenge, Reggie, Bug and Bug's pals — Maggie (Isla Fisher), a smart Australian Shepherd who has been sidelined by her owner's new puppy, and Hunter (Randall Park), an anxious Great Dane who's stressed out by his work as an emotional support animal — together hatch a plan and embark on an epic adventure to help Reggie find his way home… And make Doug pay by biting off the appendage he loves the most (it's not his foot).
Who else is in 'Strays'?
'Strays' boasts a cast that either voices dogs (or other creatures) objects or plays human characters in the story including Josh Gad, Harvey Guillén, Rob Riggle, Brett Gelman, Jamie Demetriou and Sofia Vergara.
Is 'Strays' a good dog?
Directed by Josh Greenbaum, who brought us 2021's sublimely silly 'Barb & Star Go to Vista Del Mar', 'Strays' is written by Dan Perrault, best known for 'American Vandal' and 'Players' on TV.
If you ever wanted to see 'Saturday Night Live' veteran Will Forte –– more normally associated with amiable weirdoes –– playing one of the worst dog owners to appear on screens, then this is the movie you've been waiting for. Yet Forte's Doug, a weed-smoking, porn-obsessed loser who begrudgingly goes along with the idea when his girlfriend adopts adorable terrier Reggie (voiced by Will Ferrell), is not the star of this movie, Reggie is.
Along, that is, with the new friends he makes when Doug abandons him. Foxx's Bug is a streetwise pup with an ego bigger than his frame, but who makes for a good mentor to Reggie, who has only ever known life with humans.
The pooch pals –– also including Randall Park's Hunter, a former police dog trainee who now works as a therapy dog at a hospice (and keeps a cone of shame on permanently for his own insecurity issues) and Isla Fisher's Maggie, blessed with an amazing nose and a crush on Hunter –– are the highlight of the movie, a compelling blend of well-trained real animals with CG mouth manipulation.
While they don't all enjoy the same character development as Reggie or Bug, they're an appealing, funny foursome and their adventures offer a lot of entertainment. With experienced performers bringing character as well as laughs to the roles, this features such memorable moments as the leads encountering Labrador Gus (voiced by Josh Gad), a hilarious take on the noble narrator dog we've met in movies including 'A Dog's Purpose' and 'Racing in the Rain', and who is harboring a very dark secret.
Plus, all of Reggie's interactions with Doug are good for a laugh, even as dog owners (and anyone who just loves animals in general) will loathe his living guts.
It moves along at a swift pace, never outstays its welcome and makes you care about our furry foursome in ways you don't expect at the start. Oh, and we're fairly certain that this is the only movie you'll see this year that features Sofia Vergara as the voice of Delilah, a couch that Bug enjoys having sex with.
Related Article: Director Josh Greenbaum Talks 'Strays' Starring Will Ferrell and Jamie Foxx
Are there any fleas on this one?
Not everything about the movie works; it does indulge in some first-base dog and other humor. We've seen a hundred variations on the age-old dog vs. mailman scenario and one small tweak aside (one plays into how Reggie makes it home), the movie doesn't really find a fresh take.
There are also scenes such as the canines discovering a patch of mushrooms in a forest and gobbling them down, only to go on a wild drug trip. A few moments work well (reality shifting to show Hunter as a sock puppet with human hands), but otherwise it's the sort of gag that has been done many, many times. Ditto overly macho police dog Rolf (Rob Riggle), whose best use is Maggie calling him "Adolf" to his bemused reaction.
And there are times when the reveling in poop, pee and eating disgusting things jokes stretches a little too thin, but if you were already on board with the movie, you know what you're in for.
Yet there are so many inventive uses of the dogs' worldview (fireworks at a county fair serve as the setting for a war movie spoof for our spooked hounds who look to escape) that the balance of great jokes to clunkers is heavily on the positive side.
It was about time that the dog movie got the full-on spoof comedy treatment, and 'Strays' works to bring the heart and well as the gross-out gags.
'Strays' receives 8 out of 10 stars.
Other Movies Similar to 'Strays':
Buy Tickets: 'Strays' Movie Showtimes
#Movie #Review #Strays #Moviefone