Today, Seagate launches its newest solid-state drive. Called "FireCuda 540," this PCIe Gen5 SSD is designed for both professional gamers and content creators. The new M.2 2280 SSD offers sequential read speeds of up to a staggering 10,000 MB/s and sequential write speeds of up to the same blazing-fast 10,000 MB/s. As you can imagine, the the FireCuda 540 is Seagate's fastest and highest-performing SSD to date.
The FireCuda 540 is equipped with the latest 3D TLC NAND technology and features a Seagate-validated E26 controller. This combination ensures unrivaled speed and durability, allowing users to push their limits when it comes to gaming and content creation. Whether you're engaged in intense gaming sessions or working on resource-intensive projects, the FireCuda 540 should not disappoint.

Seagate's signature endurance ensures that the drive can withstand heavy usage, boasting an impressive mean time between failures (MTBF) of 1.8 million hours. Additionally, the FireCuda 540 can handle up to 2000TB of total bytes written (TBW), meaning gamers can write and delete up to 1TB of data every day for a remarkable five years. Additionally, the drive comes optimized with DirectStorage firmware, enhancing the PC gaming experience.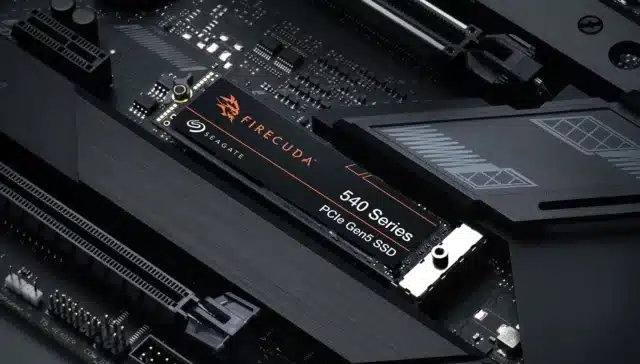 Lance Ohara, the Vice President of Product Line Management at Seagate Technology, expressed his enthusiasm about the FireCuda 540, stating, "Gamers and content creators have asked for the performance of PCIe Gen5 technology, and we've listened." Ohara added, "Seagate is thrilled to bring the fastest and best technology to the gaming and content creating community."
The FireCuda 540 solid state drive is available for purchase starting today. The 1TB variant is priced at $179.99, while the 2TB version costs $299.99. You should be able to buy the SSD here very soon.
Please note: Some of the above links may be affiliate links, meaning we, or our writers, may receive payment if you purchase one of these items (or other items) after clicking on them.

#Seagate #launches #speedy #FireCuda #PCIe #Gen5 #SSD #gaming #content #creation