'The Hunger Games: The Ballad of Songbirds & Snakes,' which is the fifth film in the franchise and a prequel to the original series opens in theaters on November 17th and was once again directed by Francis Lawrence ('The Hunger Games: Catching Fire,' 'The Hunger Games: Mockingjay – Part 1,' 'The Hunger Games: Mockingjay – Part 2').
Moviefone recently had the pleasure of speaking with director Francis Lawrence and longtime 'Hunger Games' producer Nina Jacobson about their work on 'The Hunger Games: The Ballad of Songbirds & Snakes.'
The director and producer discussed their new movie, returning to Panem, the challenges of making a prequel, casting Tom Blyth and Rachel Zegler, and how the film is really a musical!
Moviefone: To begin with, Nina, at what point did you realize adapting Suzanne Collins 'The Ballad of Songbirds and Snakes' and exploring Coriolanus Snow's history would be the next chapter of this film series?
Nina Jacobson: I did not know that until late 2019. We were all in the depths of Covid and I got a phone call from Suzanne saying, "Both Francis and I've got something I want you to read. It's in the world of 'The Hunger Games.' It's period, it's 64 years before the rest of the books and movies. There's one critical character who is a carryover character from the movies and books and there's a lot of music in it." So that's what we knew coming into it. Of course, the question is when you sit down to read a book or watch a movie that is about a character who you already know you don't like, you hate him, that is a real challenge. But what I found that she did so effectively was on the one hand, to show him in all his dimensions, he is not a Boy Scout by any stretch. He is a flawed, complex self-interested survivor on the one hand, and yet he is also not fully formed, and he is, I think, really turned upside down by the events of this story and a lot of his most essential core assumptions are upended. That to see how all of that ultimately shapes and shifts him to become the man that he will be, and to know that he's going to get there and still find yourself rooting for him to somehow go another way in spite of your knowledge that he will not, and yet find it super satisfying when he finally does break bad was actually a very fun thing to get to work on as long as we could find an actor who could do all of that. Because it really does take an enormous amount of skill, nuance and subtlety. We were very, very fortunate when we finally saw Tom to see that there was a young actor who could do all of the things that he would need to do and still conjure up the belief that this could be a person who would grow up to be Donald Sutherland.
MF: Francis, as a director what was it like for you to return to the world of 'The Hunger Games,' which you helped create on screen, and have a chance to explore Snow's backstory with this prequel?
Francis Lawrence: I mean, it was super exciting. Look, we were surprised that Suzanne wrote another book. There were no plans. When we finished 'The Mockingjay,' she was moving on to other stuff. Then in 2019 she called us and said, "I'm almost done with the book." Nina and I were shocked, excited, read it, and then I got more excited. I love villain origin stories and was super excited and up for the challenge, as well as rebuilding Panem in a way, in essence doing a period piece to the original films. So it was just all around exciting to come back.
MF: Obviously, fans are familiar with the world of 'The Hunger Games,' but this is an earlier time-period in the story than audiences have seen before. Can you talk about creating a new tone for this prequel?
FL: It's interesting. I didn't instinctively decide for the tone to feel different. I think what ended up happening, which was kind of a pleasant discovery, was that there's something about the rudimentary nature of this world, the technology and the Games, and the period of it all that grounded it in a different way. So, the other ones, being a little further in the future, there's a more fantastical element to some of the wardrobe, to the arenas for sure, that it just brought a more fantastical element to the tone, where this feels much more authentic, grounded, and realistic. I think makes some moments more intense and maybe more jarring than the other films. I was really pleased with that, that it still feels like a 'Hunger Games' movie, but it has its own sort of unique twist, tonally, obviously narratively, but also in the world building.
Related Article: First Look at Rachel Zegler and Tom Blyth in the 'Hunger Games' Prequel
MF: Francis, can you talk about casting Tom Blyth and Rachel Zegler and why they were the right actors for these pivotal roles?
FL: Tom kind of came out of the blue for me. I was not familiar with his show ('Billy the Kid'). He did a self-tape. He read for the part. His tape came in and I thought, "Wow." Physically, I could see how he, with his big blue eyes, could kind of become Donald Sutherland, Snow, when he got older. But he's super talented, Julliard trained, and great at his craft. I knew he'd be able to pull off all the facets we needed for the journey. But also, he's a very intelligent guy, very sophisticated, and that was one of the extremely important elements, that if you are believably going to become Donald Sutherland, you must be intelligent and you must be sophisticated. He had that. Rachel, Lucy Gray's a performer. We needed a singer, and we also needed a great actress and somebody that could play all the different sides and facets to Lisa Gray. She's a bit of a mystery, a little mercurial, extroverted, a charmer and a performer. Rachel could do all of that.
MF: Finally, the movie is a musical! Can you both talk about that and why the music is important to the story you are telling?
FL: I mean music, it's funny, when Suzanne first told me that she was writing this book and almost done she didn't want to tell me the story, but she did say there was a big music element to it, which intrigued me. I then discovered that Suzanne is a big fan of country music and had written a bunch of the lyrics for the songs in the movie. We worked with Dave Cobb, the Nashville producer- songwriter who wrote the chord progressions, melodies, and put this great little band together. We built this roster of songs that are based on songs that would've been in Appalachia in the '20s and '30s, sort of like circa the Carter Family, which is also a period of country music that I'm a huge fan of. But it's that idea that those songs are stories and ballads that have been passed down from England, Ireland, Scotland, through generations and then turned into songs. So, you feel a time and a place and there's kind of a haunting quality to a lot of these songs. But I thought everybody just did a great job. Rachel sings live on this whole thing, I will say.
NJ: It was a real opportunity for us because music has always been instrumental in these stories, whether it's James Newton Howard's incredible scores, or the way that songs like 'The Hanging Tree,' the song that Peeta (Josh Hutcherson) remembers from Katniss (Jennifer Lawrence), the song that Katniss sings to her sister and to Rue (Amandla Stenberg). Music has always been super important. However, we have never had a character who is a performer who's going to get up on stage and sing, and that was a huge opportunity for us. Also, a huge source of, "Well, we better not blow that, or It's going to really be a disaster if the second she starts to sing, people burst out laughing." So, getting it to fit tonally, making sure that it felt grounded, that it felt deserved, that it felt like an earned musical moment, not a number, was a real challenge. We were really blessed to have both in Suzanne, an incredible student of music history and fan of early American music, the roots of folk, country, Americana, and then to find in Dave Cobb, somebody who shared those obsessions. They had an incredible meeting of the mind, and then the melodies that he created and the way that he took her lyrics brought them to life, and then the musicians that he chose to record with to bring these songs off the page. It was an incredible moment of discovery, excitement and emotion, seeing Rachel sing those songs on set because she chose to sing live virtually every time, which is incredibly unusual. It's a real rarity for a person to want to sing live every take, and then to just destroy it every time and just leave you like a puddle on the floor. It was really something, and it was enormously fun to get to do. The songs would get to be really stuck in your head, and you'd have to go and do a long Spotify playlist if you wanted to shake the earworm, that was the only downside.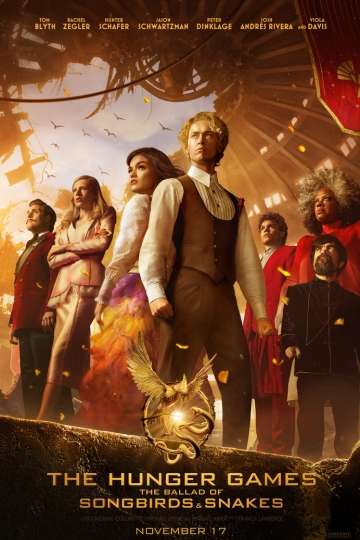 What is the plot of 'The Hunger Games: The Ballad of Songbirds & Snakes'?
Years before he would become the tyrannical President of Panem, eighteen-year-old Coriolanus Snow (Tom Blyth) is the last hope for his fading lineage, a once-proud family that has fallen from grace in a post-war Capitol. With the 10th annual Hunger Games fast approaching, the young Snow is alarmed when he is assigned to mentor Lucy Gray Baird (Rachel Zegler), the female tribute from impoverished District 12. But, after Lucy Gray commands Panem's attention by defiantly singing during the reaping ceremony, Snow thinks he might be able to turn the odds in their favor. Uniting their instincts for showmanship and newfound political savvy, Snow and Lucy Gray's race against time to survive will ultimately reveal who is a songbird, and who is a snake.
Who is in the cast of 'The Hunger Games: The Ballad of Songbirds & Snakes'?
Other Movies Similar to 'The Hunger Games: The Ballad of Songbirds and Snakes':
Buy Tickets: 'The Hunger Games: The Ballad of Songbirds and Snakes' Movie Showtimes
#Hunger #Games #Ballad #Songbirds #Snakes #Interviews