The third installment in the Agatha Christie movies takes a chilling turn in 'A Haunting in Venice'. Actor and director Kenneth Branagh returns to helm the film and reprise his role of the famed mustache detective, Hercule Poirot.
A Murder Mystery Fit For Halloween
The movie is based on Christie's novel 'Hallowe'en Party' and will be available on streaming and digital just in time for Halloween. While these murder mystery novels are often accompanied by a sense of suspense and horror, 'A Haunting In Venice' leans straight into the horror theme by placing the murder inside a haunted palazzo.
Releasing on Halloween means the film will just make the Huluween line-up at the end of its celebration. Additionally, 'A Haunting In Venice' will also be available to rent or purchase on digital on the same day.
Related Article: Movie Review: 'A Haunting In Venice'
The Film Switched From Shooting In 70 Millimeter To Digital
Branagh teams up once again with cinematographer Haris Zambarloukos ('Death on the Nile', 'The Orient Express'). In an interview with Colliderthe British cinematographer expands on why they made the switch from filming on 70 millimeter to digital, "There were a lot of photographic characteristics that we wanted to maintain in the Poirot films. One was a certain kind of clarity, the other is a sense of depth of field." he explains.
"One of the things that I think makes the intimacy of the portraiture that we have used on previous Poirot films is that we work at a slightly higher depth of field than most films, T4. Not 'Citizen Kane' levels, but just enough that a face and its features are all in focus. So, we wanted to shoot with a large format lens camera system that was in the highest sensitivity to light, and that was the Sony Venice 2. Those photographic elements were more important than the analog versus digital – that we were able to shoot at low-light levels but with our preferred depth of field. Those were the choices behind shooting this with a digital camera."
Where Can I Watch 'A Haunting In Venice'?
'A Haunting In Venice' held its world premiere at the Odeon Luxe Leicester Square at the West End London on September 11th. It was released domestically on September 15, 2023, and is still available in theaters if you want to experiment it in standard format or in IMAX. 'A Haunting In Venice' has a total runtime of 1 hour and 44 minutes.
Buy Tickets: 'A Haunting in Venice' Movie Showtimes
Watch the official trailers for 'A Haunting In Venice' below:
The movie will be available on digital on October 31 on major platforms such as Prime Video, Apple TV, Vudu, YouTube, and Google Play for rent or purchase.
Where to Watch: 'A Haunting In Venice' Online
Fans of physical media can also look forward to 4K UHD, Blu-Ray, and DVD release of the film on November 28.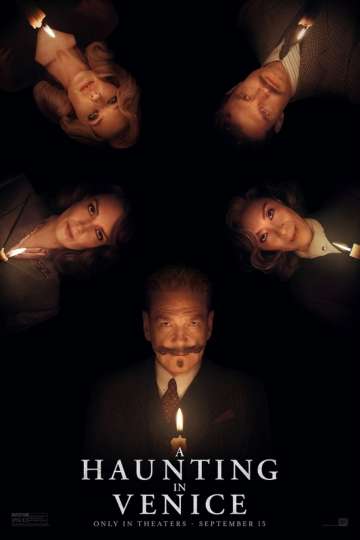 The official synopsis for 'A Haunting In Venice' is below:
Hercule Poirot (Kenneth Branagh) has retired from detective work and has moved to Italy to live a quiet life. His peace is interrupted when old friend and novelist Ariadne Oliver (Tina Fey) stops by and insists he attends a séance on Halloween in order to expose a psychic named Joyce Reynolds (Michelle Yeoh). However, when a murder occurs, Poirot vows to catch the killer within the haunted palazzo.
Who Is In The Cast of 'A Haunting In'?
Other Movies Similar to 'A Haunting in Venice:'
#Watch #Kenneth #Branaghs #Haunting #Venice