Disney Animation Studios gears up for its new feature-length animated movie, timed with the studio's 100th anniversary. 'Wish' is helmed by Chris Buck ('Frozen II') and Fawn Veerasunthorn ('Raya and the Last Dragon'). It's an original fairy tale with an art style inspired by the looks of classic Disney animated movies and the theming of wishing upon a star.
Moviefone recently had the pleasure of speaking with Chris Buck and Fawn Veerasunthorn after a presentation for 'Wish' at the El Capitan Theater in Los Angeles. The two directors discussed the inspiration behind the upcoming animated feature, how many Easter Eggs they managed to sneak into the film, the influences for some of the musical numbers, and working with Ariana DeBose.
Moviefone: To begin with, given the title of this film and how much was inspired by the classic Disney message of "When you wish upon a star," was it always the plan to release this movie timed to the Disney 100th anniversary?
Chris Buck: Yeah. Jen (Lee) had sort of whispered in my ear. We were in the last year of 'Frozen 2'. She says, "You know 2023 – is just around the corner, we gotta do something special." We weren't sure what yet, and so even though we were still finishing up from 'Frozen 2,' we pinned up all these stills from each Disney animated movie. I could see on one bulletin board the breadth of all the different styles and all the different years. Everything that Walt (Disney) and beyond had done, what the company had done. So that's where it started because it wasn't just the breadth of everything, but then you can see the connection between the movies, and then you can see characters wishing on stars. So then it just became sort of obvious, it's like this movie has to be about a wish and it has to be wishing on stars.
MF: You talked about being inspired by Disney classics like 'Beauty and the Beast' and 'Pinocchio.' We definitely saw the inspiration in the film's artwork. Did you manage to sneak in Easter eggs for all the Disney fans and if so, can you tease any?
Fawn Veerasunthorn: You've seen some today. The big musical number where you may have heard a certain deer's name ('Bambi') in there. And there might have been some bunny who thumps a lot. I know we started from the ground up with aiming for this to be an original fairy tale, right? Part of celebrating the future, and coming up with something new with a contemporary song. Along the way, we just couldn't help ourselves – being Disney fans, creating movies for Disney fans – that there are these ideas that come up, and we try to be tasteful about it and not that it's distracting, but if you love Disney movies, when you go to see this film…
CB: …You'll pick up quite a few. There'll be some fans who pick out ones that maybe we didn't even consciously do. I mean, it's already happened. We have a list. It's a long list.
Related Article: 'Once Upon a Studio' Features 543 Characters From 85 Different Disney Movies
MF: One of the scenes that we got to see today is where Asha is the tour guide, and she breaks into a musical number and we know that she's voiced by Ariana DeBose but Asha's movement matches the way Ariana moves. How was that achieved? Did you capture her dancing in the studio, or was it from purely watching her dance footage?
VF: For this song, we work with a choreographer from Spain, actually. We talked about Rosas as being a fictional place, but it's a destination that people come from all over the world, but the main influence is North Africa and Southern Europe. In talking with him, we also wanted to infuse that modern sensibility because with Julian Michael's writing of these songs, you can't avoid it. So those aspects came together, and he created the dance reference for us onstage in Spain where we filmed it. Then our animators studied it. We also talked to Ariana about the way she moves and the way she thinks Asha would move and react to those two big factors
CB: They would also record not only for the dialect sessions but also her musical sessions. So when she is singing and acting, you know, she's moving, and so our animators are looking at that, getting the cues and all that.
MF: Finally, were there any specific sequences, numbers or characters that were a bit challenging for you in the making of this film?
CB: They all have their own challenges. Sometimes what you think is going to be a very simple one could be deceiving. I mean, they're all a challenge, they are all so exciting to play with and to do new things. But I don't think there's ever a formula that you say, 'It's gonna be easy."
VF: They come with their own sets of joy and challenges.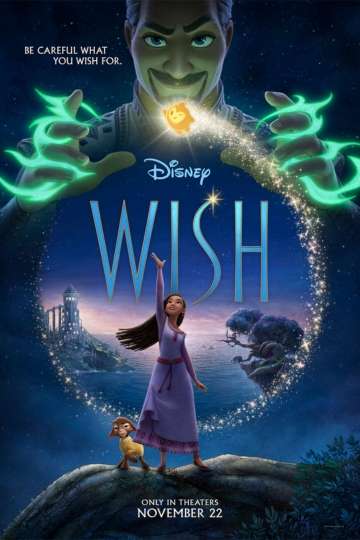 "Be careful what you wish for."
1 hr 32 min
November 18th, 2023
Showtimes & Tickets
Asha, a sharp-witted idealist, makes a wish so powerful that it is answered by a cosmic force—a little ball of boundless energy called Star. Together, Asha and… Read the Plot
What Is The Plot Of 'Wish'?
Set in the magical kingdom of Rosas, the story introduces Asha (Ariana DeBose), an optimist with a sharp wit who deeply cares about her community. When Asha turns to the sky in a moment of need and makes a wish, her plea is answered by a cosmic force — a little ball of boundless energy called Star. Together, they face the most formidable of foes to save her community and prove that when the will of one courageous human connects with the magic of the stars, wondrous things can happen.
Who Is In the Cast of 'Wish'?
Other Movies Similar to 'Wish:'
#Interview #Directors #Chris #Buck #Fawn #Veerasunthorn